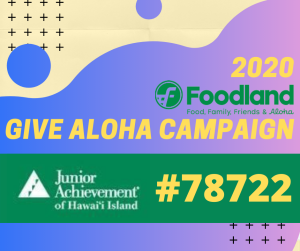 Foodland/Sack-n-Save is again holding their "Give Aloha" campaign this September.  It makes this month a great time to donate to JA of Hawaii Island, and have your donations boosted by Foodland.
It's easy to do: At Foodland and Sack-n-Save stores, present your Maika'i card at checkout and inform the cashier you would like to make a "Give Aloha" donation. Then select "Junior Achievement of Hawaii Island" CODE 78722.
You may donate up to $249 per organization (any amount in excess will not be matched).  The name of our organization and the amount you donate will appear on your receipt.  Please make sure to present your Maika'i card so your gift can be matched.
Since donor names will not be released to our organization, if you would like us to know of your gift, please email our JAHI district manager at jahilo@jahawaii.org.
Thank you in advance for supporting financial literacy in our Big Island elementary, intermediate and high schools.