Junior Achievement of Hawaii Island congratulated 48 outstanding young entrepreneurs and awarded $3,500 in scholarships Jan. 24 during its 37th annual Futures Unlimited awards banquet at Sangha Hall.
The Junior Achievement company program helps high school students develop leadership and entrepreneurship skills by guiding them through the creation of a small business, from product development to marketing and sales. The awards recognize the hard work of the students and advisers from local businesses.
The three student companies participating in this cycle were Aloha Co. sponsored by HFS Federal Credit Union, P.O.N.O. sponsored by Big Island Toyota and Synergy sponsored by Bank of Hawaii. Company members sold their products to friends and family, and to the public during a trade fair in November at Prince Kuhio Plaza. During the course of the cycle, the companies sold more than $27,000 in merchandise.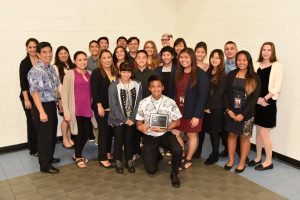 Aloha Co. was named Outstanding Company of the Year and had the highest company sales at $9,900. P.O.N.O. was noted for having the most compelling presence at the trade fair and Synergy's Eric Tejada was awarded Outstanding President.
The top three salespeople of the year were Brittney Williams of P.O.N.O. with $1,431 in sales, Kilar Fujimoto of Synergy with $1,335 and Ruby Galapon of Aloha Co. with $1,274.
The Junior Achievement sponsoring businesses instill the value of community service in their own employees and set examples for the participants. Companies collaborated with KTA Super Stores to put on their haunted house, shared random acts of kindness and collected food for The Food Basket, Hawaii Island's food bank. Synergy received this year's Community Service award.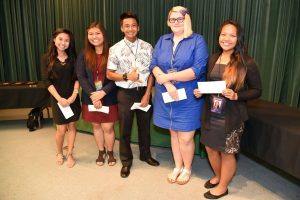 In addition to achievement awards, $3,500 in scholarships were awarded to five seniors who excelled in the program and other aspects of scholastic life: Maria Calso, Joy Galvez and Tejada of Synergy and Galapon of Aloha Co., all Keaau High School students, and Breena Pratt of Synergy (Hilo High).
"The growth we see in our students is obvious at the culmination of our company program with the Futures Unlimited banquet," said Jeanine Acia, district manager for Junior Achievement of Hawaii Island. "We are so proud of their efforts and know that they have bright futures. Our program would not be a success if it weren't for our volunteer mentors who give so generously."